Prof. Birgir Guðmundsson, guest editor
This special issue of Nordicum-Mediterraneum contains articles based on five lectures that were delivered at a conference held on the occasion of Mr. Ólafur Ragnar Grímsson being awarded an honorary doctorate in the field of social sciences by the School of Humanities and Social Sciences at the University of Akureyri on September 30, 2022.
Ólafur Ragnar Grímsson has left a deep mark on Iceland's history in his successful career as a scholar, head of state, international politician and pioneer in discussions about the Arctic. The lectures contained in this edition reflect these aspects of his work in numerous ways.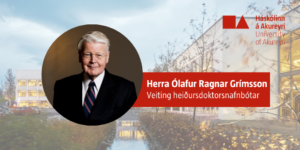 Mr. Grímsson was a pioneer in the field of social sciences in Iceland, becoming an assistant professor in political science at the University of Iceland in 1970 and a professor three years later. He gained an international reputation early on as a researcher in political science, publishing many scientific articles in Icelandic and international journals.
Mr. Grímsson's participation in politics has also been very significant, both at the national and international level. During his political career, Mr. Grímsson was an editor, a member of parliament, a cabinet minister and the chairman of the socialist party the People's Alliance from 1987–1995. He also operated in the international arena, among other things representing the international parliamentarian organization Parliamentarians for Global Action for a number of years.
Mr. Grímsson's presidency was unique in many ways and marked a turning point in various fields. Not only did he hold office for longer than any of his predecessors, but many of his decisions and interpretations of the constitution marked a turning point. In this regard, his interpretation of the provisions of the constitution on the president's authority to refuse ratification of laws are of particular interest.
The issues of the Arctic have long been close to Mr. Grímsson's heart, and in recent years he has played a key role in putting matters of the Arctic on the international community's agenda. One of his most noteworthy contributions is founding the Arctic Circle, the largest and most important forum for international discussion about cooperation and the future of the Arctic, and in fact the entire Earth.
On the occasion of the awarding of the honorary title, a symposium was held under the title "Universities, democracy and the North – a changing worldview" at the University of Akureyri, with the articles that appear here being, as mentioned above, based on papers at this symposium. The lectures were delivered in Icelandic and are published here in Icelandic. However, this introduction and presentation of the papers is also published here in English.
Albert Jónsson: In his article, Mr. Jónsson analyzes the changes that have taken place in the worldview of the Arctic in recent months and years, not least after the Russian invasion of Ukraine. He comes to the conclusion that international politics and the structure of the international system have changed in important respects. Among other things, he mentions the entry of Sweden and Finland into NATO and the fact that the Arctic Council effectively became non-functional. However, he considers that changes in the Earth's weather system, with the opening of the Arctic Ocean to navigation, are no less significant. According to Mr. Jónsson, the central role of the Arctic is set to increase further with more connections between the Asia-Pacific region and the Euro-Atlantic region through the Arctic Ocean. Thus, many opportunities and dangers will be created for nations and states in the Arctic, not least economic, so that it can be expected that the Arctic will become an arena of global politics and tension no later than in the mid-21st century.
Guðrún Geirsdóttir: The article provides an overview of the research project Universities and democracy: A critical analysis of the civic role of universities in a democratic society, which received a three-year grant from the Rannís Research Foundation in the spring of 2018. In the study, an interdisciplinary group of scholars sought answers to whether and what role universities play in a democratic society. Data was obtained through a philosophical analysis of the concepts of democracy and universities and the relationship between them, as well as through interviews with lecturers at three universities. Studies show that universities play a variety of important roles in promoting and strengthening democratic societies. The article gives several examples of different aspects of the research and their results.
Ólafur Harðarson: In his article, Mr. Harðarson traces the beginning of teaching in the social sciences in the Social Studies Program at the University of Iceland from the 1970s onwards. He then traces how this co-teaching in political science and sociology developed in the 1970s and 1980s, becoming more meaningful and acquiring a clearer institutional framework, and during the reorganization of the structure of the University of Iceland in 2008, it became the university's most populous department. Mr. Harðarson highlights how the three initial main goals of teaching political science – that the BA program meet international requirements, that research be carried out on the Icelandic government system, and that a connection be formed with the international academic community of political science – were fulfilled one after the other. In his article, Mr. Harðarson traces the main points that have been written about the development of Icelandic political science, using an overview from an article that Ólafur Ragnar Grímsson wrote in 1977 about ten projects and research areas that awaited Icelandic political scientists. Mr. Harðarson covers these areas one by one and gives an account of the research and writing on each of them separately, providing a comprehensive and general overview of the research and academic writing of political science.
Ragnheiður Elfa Þorsteinsdóttir: Constitution and changes to the constitution in a democratic context are the main topics of Ms. Þorsteinsdóttir's article. She reviews theoretical ideas about the role of the constitution and how they limit democracy. In particular, Ms. Þorsteinsdóttir examines and evaluates their importance in ensuring that democratic rights and tempering majoritarianism are ensured so that oppression is not created due to the unbridled totalitarianism of the majority. She then discusses the situation in Iceland, where there has been a debate for decades about including provisions on natural resources in the constitution. She points out that there is a fairly clear national will for such a provision, but the decision-making power rests with Parliament, which has not agreed on its implementation. Ms. Þorsteinsdóttir considers this one of the manifestations of majoritarianism, giving rise to the question whether the parliament elected by the people can circumvent the will of the people.
Þorsteinn Gunnarsson: In his article, Mr. Þorsteinn Gunnarsson reviews the development of Arctic studies over the past 30 years and gives an account of the main definitions of what the Arctic is and what the studies of this part of the world center on. Mr. Gunnarsson identifies three separate periods in this development. The first is 1990–1999, which Mr. Gunnarsson calls "At the Arctic edge", is characterized by the development of basic infrastructure and knowledge in the field of the discipline. The second period extends from the turn of the century until 2010 and is characterized by the infrastructure being consolidated, creating an international debate, based on Arctic studies. The Northern Research Forum, the Arctic Circle and Mr. Ólafur Ragnar Grímsson play a very important role in this respect. Mr. Gunnarsson calls this period "In the far north". The third period is 2011–2022, which Mr. Gunnarsson calls "The Arctic around the world" and is characterized by the rapidly growth of international cooperation, e.g., with researchers outside the Arctic. In his presentation, Mr. Gunnarsson specifically discusses the role of Mr. Ólafur Ragnar Grímsson in the development of Arctic studies and the Arctic debate.
As is evident, the lectures span a wide range and are connected in different ways to various aspects of Mr. Ólafur Ragnar Grímsson's life work. However, all the lectures are particularly interesting and hold meaning for laypeople and academics. Therefore, we want to make them available by publishing them in this special issue of Nordicum-Mediterraneum.
Háskólar, lýðræði og norðurslóðir – breytt heimsmynd
– Ráðstefnuerindi í tilefni heiðursdoktorsnafnbótar Ólafs Ragnars Grímssonar við HA
Í þessu sérhefti af Nordicum- Mediterraneum eru birtar greinar byggðar á fimm erindum sem flutt voru á ráðstefnu sem haldin var í tilefni af því að herra Ólafi Ragnari Grímssyni var veitt heiðursdoktorsnafnbót á sviði félagsvísinda af Hug-og félagsvísindasvið Háskólans á Akureyri þann 30. september 2022.
Ólafur Ragnar Grímsson er hefur markað djúp spor í Íslandssöguna á farsælum ferli sem fræðimaður, þjóðhöfðingi, alþjóðlegur stjórnmálamaður og frumkvöðull í umræðu um málefni norðurslóða og kallast erindin með ýmsum hætti á við þessa þætti í starfi hans.
Ólafur Ragnar var brautryðjandi á sviði félagsvísinda á Íslandi og varð lektor í stjórnmálafræði við Háskóla Íslands 1970 og síðan prófessor þremur árum seinna. Hann haslaði sér snemma alþjóðlegan völl sem nafn innan stjórnmálafræðinnar og eftir hann liggja margar fræðigreinar í íslenskum og erlendum tímaritum.
Ólafur hefur ekki aðeins rannsakað stjórnmálin, þátttaka hans í þeim hefur verið veruleg, bæði á innlendum og erlendum vettvangi. Á sínum pólitíska ferli var Ólafur ritstjóri, þingmaður og ráðherra og formaður Alþýðubandalagsins frá 1987 – 1995. Hann starfaði jafnframt á erlendum vettvangi og var m.a. um árabil í forsvari fyrir alþjóðlegu þingmannasamtökin Parliamentarians for Global Action.
Forsetatíð Ólafs Ragnars var um margt sérstök og markaði tímamót á ýmsum sviðum. Ekki einungis sat hann lengur en áður hafði þekkst heldur mörkuðu ýmsar ákvarðanir hans og túlkun á stjórnskipuninni tímamót. Má í því sambandi nefna túlkun hans á ákvæðum stjórnarskrár um heimild forseta til að synja lögum staðfestingar.
Málefni Norðurslóða hafa lengi verið Ólafi Ragnari hugleikin og á umliðnum árum hefur hann verið í lykilhlutverki við að setja þá umræðu á dagskrá alþjóðasamfélagsins. Þar ber líklega hæst að hann er stofnandi Arctic Circle, stærsta og mikilvægasta vettvangs alþjóðlegrar umræðu um samvinnu og framtíð norðurslóða og í raun jarðarinnar allrar.
Í tilefni af veitingu heiðursnafnbótarinnar var haldið málþing undir yfirskriftinni "Háskólar, lýðræði og Norðurslóðir – breytt heimsmynd" við Háskólann á Akureyri og eru greinarnar sem hér birtast sem áður segir byggðar á erindum á ráðstefnunni. Erindin voru flutt á íslensku og eru hér birt á íslensku. Þessi inngangur og kynning á erindunum birtist hér hins vegar jafnframt á ensku.
Albert Jónsson: Í grein sinni greinir Albert þær breytingar sem orðið hafa á heimsmynd norðurslóða á undanförnum mánuðum og misserum, ekki síst eftir innrás Rússa í Úkraínu. Hann kemst að þeirri niðurstöðu að alþjóðastjórnmál og uppbygging alþjóðakerfisins hafi breyst í mikilvægum atriðum. Nefnir hann m.a. inngöngu Svía og Finna í NATO og það að Norðurskautsráðið varð í raun óstarfhæft. En það séu ekki síður breytingar í veðrakerfi Jarðar sem séu afdrifaríkar með opnun Norður- Íshafs fyrir siglingum. Miðlægt hlutverk norðurslóða eigi eftir að aukast enn frekar með frekari tengingum Asíu-Kyrrahafssvæðisins og Evró-Atlantshafssvæðisins í gegnum Norður-Íshafið. Við það muni fjölmörg tækifæri og hættur skapast fyrir þjóðir og ríki á norðurslóðum, ekki síst efnahagsleg, en búast megi við að ekki síðar en um miðja öldina verði norðurslóðir orðinn vettvangur heimspólitíkur og spennu.
Guðrún Geirsdóttir: Greinin veitir yfirlit yfir rannsóknarverkefnið Háskólar og lýðræði: Gagnrýnin greining á borgaralegu hlutverki háskóla í lýðræðisþjóðfélagi sem hlaut styrk til þriggja ára úr Rannsóknasjóði Rannís vorið 2018. Í rannsókninni leitaði þverfræðilegur hópur fræðimanna svara við því hvort og þá hvaða hlutverki háskólar gegna í lýðræðislegu samfélagi. Gagna var aflað með heimspekilegri greiningu á hugtökunum lýðræði og háskólar og tengslum þar á milli svo og með viðtölum við háskólakennara í þremur háskólum. Greiningar sýna að háskólar gegna margs konar mikilvægum hlutverkum við að efla og styrkja lýðræðisleg samfélög. Í greininni eru gefin nokkur dæmi um ólíka þætti rannsóknarinnar og niðurstöður þeirra.
Ólafur Harðarson: Í grein sinni rekur Ólafur Harðarson upphaf kennslu í félagsvísindum í Námsbraut í þjóðfélagsfræðum við Háskóla Íslands um og upp úr 1970. Hann rekur síðan hvernig þessi samkennsla í stjórnmálafræði og félagsfræði þróast á áttunda og níunda áratugnum og verður burðugri og öðlast skýrari stofnanaumgjörð og er við endurskipulagningu á uppbyggingu Háskóla Íslands 2008 orðin að fjölmennustu deild skólans. Hann dregur fram hvernig upphafleg þrjú megin markmið um kennslu í stjórnmálafræði – að BA námið standist alþjóðlegar kröfur, að stundaðar verði rannsóknir á íslenska stjórnkerfinu og að tengsl myndist við alþjóðlegt fræðasamfélag stjórnmálafræðinnar – rætast hvert af öðru. Í greininni rekur Ólafur það helsta sem hefur verið skrifað um þróun íslenskrar stjórnmálafræði og nýtir sér yfirlit úr grein sem Ólafur Ragnar Grímsson skrifaði árið 1977 um tíu verkefni og rannsóknarsvið sem biðu íslenskra stjórnmálafræðinga að vinna í. Fer hann yfir þessi svið eitt af öðru og gerir grein fyrir rannsóknum og skrifum á hverju þeirra fyrir sig þannig að úr verður heildstætt og almennt yfirlit yfir rannsóknir og fræðiskrif stjórnmálafræðinnar.
Ragnheiður Elfa Þorsteinsdóttir: Stjórnskipun og breytingar á stjórnarskrá í lýðræðisleg samhengi eru meginefni greinar Ragnheiðar Elfu Þorsteinsdóttur. Hún fer yfir fræðilegar hugmyndir um hlutverk stjórnarskrár og hvernig þær setja lýðræðinu skorður. Sérstaklega skoðar hún og metur mikilvægi þeirra við að tryggja að lýðræðisréttindi og tempra meirihlutaræðis þannig að tryggt sé að ekki skapist kúgun vegna óbeislaðs alræðis meirihlutans. Hún reifar síðan stöðuna á Íslandi þar sem umræða og hefur í áratugi verið mikil um að setja ákvæði um um náttúruauðlindir í stjórnarskrá. Bendir hún á að nokkuð greinilegur þjóðarvilji sé fyrir slíku ákvæði en ákvörðunarvaldið sé hjá Alþingi, sem ekki hafi komið sér saman um útfærslu. Þetta sé í raun ein birtingarmynd meirihlutaræðisins og spurningin vakni hvort þingið sem kosið er af þjóðinni geti sniðgengið þjóðarvilja?
Þorsteinn Gunnarsson: Í grein sinni fer Þorsteinn Gunnarsson yfir þróun norðurslóðafræða undanfarin 30 ár og gerir grein fyrir helstu skilgreiningum á því hvað norðurslóðir eru og um hvað þau fræði fjalla sem kennd eru við þennan heimshluta. Þorsteinn greinir þrjú aðskilin tímabil í þessari þróun. Það fyrsta er 1990-1999 og nefnir Þorsteinn það "Við nyrstu sjónarrönd" og einkennist af uppbygginu á grundvallar innviðum og þekkingu á sviði fræðigreinarinnar. Annað tímabilið nær frá aldamótum fram til 2010 og einkennist af því að innviðir eru treystir og sköpuð alþjóðleg umræðu, byggða á norðurslóðafræðum. Hér spilar Rannsóknarþing Norðursins , Hringborð norðurslóða og Ólafur Ragnar Grímsson mjög mikilvægt hlutverk. Þetta tímabil kallar Þorsteinn "Í fjarska norðursins". Þriðja tímabilið er svo 2011-2022, sem Þorsteinn kallar "Norðurslóð um veröld víða" og einkennist af hraðvaxandi alþjóðasamstarfi m.a. við rannsóknaaðila utan norðurslóða. Í erindi sínu fjallar Þorsteinn sérstaklega um þátt Ólafs Ragnars Grímssonar í uppbyggingu norðursláða fræða og norðursláðaumræðu.
Eins og sjá má spanna erindin vítt svið og tengjast með ólíkum hætti ýmsum þáttum í ævistarfi Ólafs Ragnars Grímssonar. Öll eru erindin þó sérlega áhugaverð og eiga erindi við áhugafólk og fræðimenn. Því viljum við gera þau aðgengileg með birtingu í þessu sérhefti af Nordicum- Mediterraneum.
Birgir Guðmundsson, gestaritstjóri